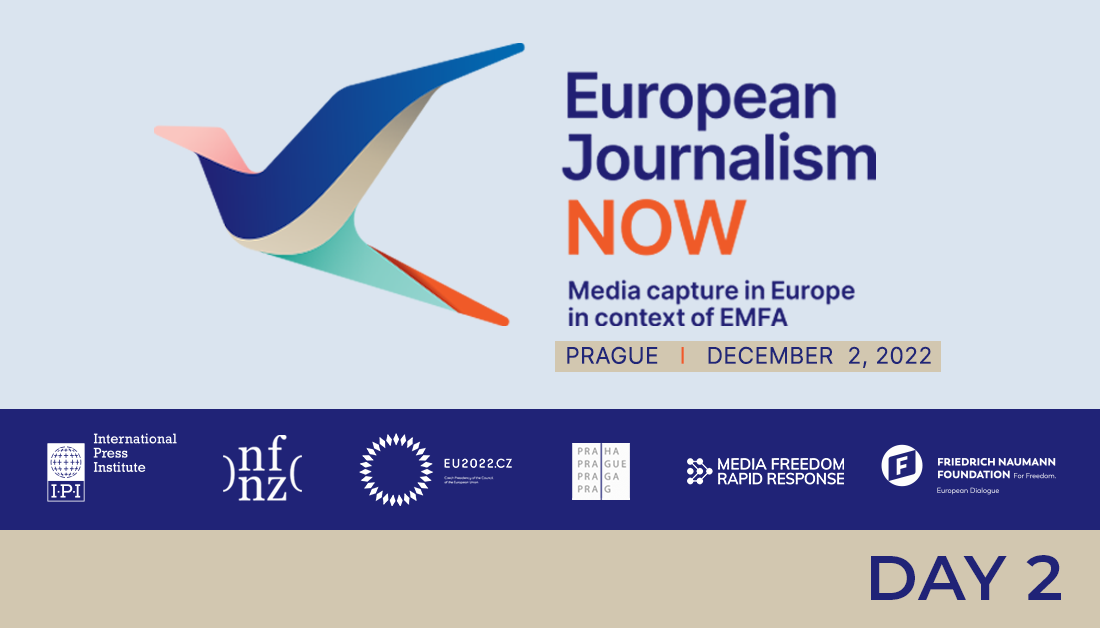 DAY TWO


Friday, December 2, 2022
CONFERENCE:

Media Capture and the European Media Freedom Act
Led by International Press Institute, IPI
The event gathers leading editors, journalists, media experts and representatives from media freedom organisations to discuss media capture and the need for a strong European Media Freedom Act (EMFA), to safeguard European democracy.
The key note speech will be given by European Commission Vice President Vera Jourova who, along with Commissioner Thierry Breton, is responsible for the EMFA.
The first part brings together IPI's network of leading editors from Central and Eastern Europe including Hungary, Bulgaria, Poland, Slovenia, Slovakia, Greece and, of course, the Czech Republic, where media capture is most acute and will look at media capture in action and its impact on free and independent journalism.
The second part brings together media experts, publishers and press freedom groups to review the EMFA asking if and how it can combat media capture and identify the improvements that need to be made to achieve its ambitions.
AGENDA
9:00 – 9:30  Opening Session: Welcome remarks: Frane Maroević, Executive Director, International Press Institute (IPI)
Keynote Speech:
Věra Jourová, Vice President of the European Commission.
Topic: Protecting media freedom in the EU and the challenges facing the European Media Freedom Act (EMFA).
Michal Klíma, Advisor on media freedom and disinformation to the government of the Czech Republic
Topic: Media freedom – lessons from the Czech Republic for the EU
9:30 – 11:15  Session I: Media Capture in Action
Moderator: Jamie Wiseman, IPI Europe Advocacy Officer
Speakers:
Marius Dragomir, Founding Director, Media and Journalism Research Center
Michal Klíma, Advisor on media freedom and disinformation to the government of the Czech Republic
Contributions from:
Veronika Sedláčková, TV journalist and presenter, Chair of IPI Czech National Committee
Veronika Munk, Head of Content, Telex, Hungary
Marton Gergély, Editor-in-Chief, HVG, Hungary
Piotr Stasinski, Deputy Editor-in-Chief, Gazeta Wyborcza, Poland
Beata Balogová, Editor-in-Chief, SME, Slovakia
Velislava Popova, Editor, Dnevnik, Bulgaria
Ali Žerdin, Deputy Editor, Delo, Slovenia
Boryana Dzhambazova, Journalist, Bulgaria
11:45 – 14:00  Session II: The European Media Freedom Act
Moderator: Oliver Money-Kyrle, IPI Head of Europe Advocacy and Programmes
Speakers:
Audrius Perkauskas, Deputy Head of Unit, Audiovisual and Media Policy, European commission
Renate Schroeder, Director, European Federation of Journalists
Eva Simon, Advocacy Officer, Liberties
Aurore Raoux, EU Policy Manager, News Media Europe
Elda Brogi, Professor, European University Institute, Florence
Lucie Sykorova, Association of Online Publishers, Czech Republic, Chair Supervisory Board ECPMF
Maria Luisa Stasi, Head of Law and Policy for Digital Markets, ARTICLE 19
14:00  Lunch and Departures
Background
One of the biggest challenges to press freedom across the EU is the capture of media by vested political and business interests for political influence and control. Hungary, Poland, Slovenia, Slovakia, Bulgaria and the Czech Republic media capture has squeezed watchdog journalism and eroded media pluralism.
Illiberal governments have abused state economic and regulatory powers to gain control over public service media, media regulators, state-controlled companies, advertising agencies, competition watchdogs and even the courts.
In September 2022, the European Commission published the European Media Freedom Act (EMFA), a landmark initiative aimed at protecting media pluralism and independence and countering media capture.
Provisions include enhanced media ownership transparency, strict criteria for, and transparency of, the distribution of state advertising funds to media, and enhanced protection against politicised appointments to public service media and a new Europe-wide Board of national regulators to oversee the new rules.
The EMFA has been welcomed by multiple journalist groups and international and domestic press freedom organisations as a major step forward in shared efforts to strengthen the free and pluralistic media system in the EU.
The conference will be held under the auspices of the Czech government as part of its Presidency of the Council of the European Union and the City of Prague who is providing the Mayor's Residence as the venue. The event is organised by the International Press Institute and its IPI Czech National Committee and in cooperation with the Endowment Fund for Independent Journalism (NFNZ), which is organising a workshop on its innovative Media Rating initiative. The two events will run concurrently over December 1-2.
It is supported by the European Commission's Media Freedom Rapid Response programme and the Friedrich Naumann Stiftung.