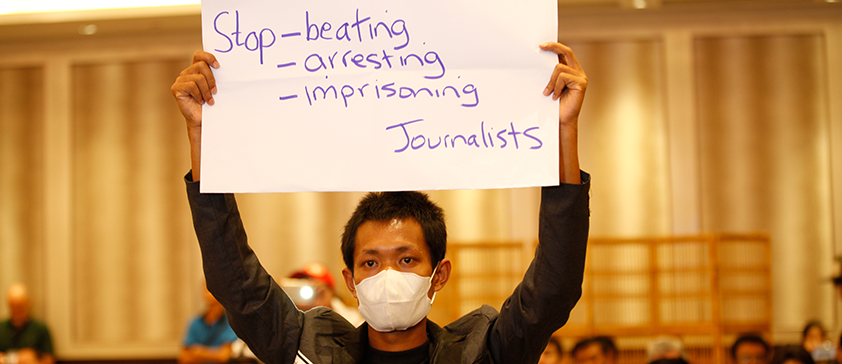 Support Us
Your support enables us to continue our work around the world.
This young Myanmar journalist was able to hold up this sign in front of the Minister of Information during the IPI World Congress in Yangon because he was backed by the IPI global community and 300+ journalists in the room.
DONATE TO THE IPI PRESS FREEDOM FUND
The IPI Press Freedom Fund allows IPI to react swiftly to media freedom violations around the world. Our recent work includes our campaigns to free jailed journalists in Turkey and Egypt and to ensure justice for journalists murdered in Slovakia, Malta and India as well as press freedom missions to Hungary, Tanzania, Turkey and the United States. We are also actively involved in the #HoldtheLine campaign to support IPI Board Member Maria Ressa CEO of  the Philippine online news site Rappler, who faces up to six years in prison for cyber libel.
Donations to the IPI Press Freedom Fund can be made online (green button)
or through a bank transfer to IPI's account: Bank: Raiffeisenlandesbank Wien / IBAN: AT19 3200 0003 0702 5984 / BIC (Swift): RLNWATWW
OTHER WAYS TO SUPPORT IPI
BOOK YOUR HOTEL VIA BOOKING.COM
IPI is an affiliate partner of Booking.com. When you book a room using the box below or via the link https://booking.com/supportipi, Booking.com will donate 7% of the total booking value to IPI. There are no extra costs for you: Rates are exactly the same as the usual Booking.com rates. All donations will go to the IPI Press Freedom Fund.
BECOME A MEMBER
Working in journalism or in defence of media freedom? Then join us! Be a part of IPI's global network. Our members are at the core of our work and are our biggest supporters. Take a look at our different membership categories and join us!