***
The 2021 World Congress will run from 15-17 September as a truly global and hybrid online and IRL event.
Join the IPI global network of journalists, editors and publishers at the IPI World Congress 2021 — in Vienna or on-line: It's a hybrid — some face to face, some online and some a mix of the two, designed to bring the global journalism community together, and to suit you.
The world emerging from the pandemic needs journalism that meets the needs of the moment more than ever. 
Join the conversation about how we advance, protect and sustain a journalism that lights up the world with its power of storytelling. We'll journey beyond the noise to the heart of what matters: journalism that informs our communities, makes sense of the world we live in, and holds power to account. For journalism to thrive we need to secure the infrastructure that supports it:
*  Stories you can trust: the best of journalism in the (dis)information age – from around the world and around the corner.
*  The rights that let us do our job: press freedom, safety and a democratic media environment, all of which are under threat globally.
*  A media business that sustains us: understanding our audience and the opportunities technology offers to deliver journalism and news products that delight and serve our communities. 
For more than 70 years, IPI has defended and promoted press freedom and independent journalism. The IPI World Congress is our flagship event and a top international forum for discussing these issues, gathering more than 300 leading media professionals from over 40 countries each year. We'll debate, present, mentor; we'll share our ideas, passions, failures and stories in discussions, presentations, masterclasses and workshops, one-on-one, on stage and over zoom.
Health above everything else
We will make sure that all Congress gatherings at any of the venues fulfil Austria's Covid-19 health regulations, meaning that all participants will have to show an official document proving one of these three:
Vaccination – vaccines approved in the EU: Biontech/Pfizer, Moderna, AstraZeneca, Johnson & Johnson
Negative test – PCR tests valid for 48 hours; antigen test valid for 24 hours. There are numerous possibilities to get tests free of charge in Vienna and the IPI staff will provide support to Congress participants; or
Recent recovery from COVID-19 through an EU Digital COVID Certificate.
Join us in Vienna, IPI's home city!
Hugo Portisch, the doyen of Austrian journalism, kept speaking up for independent media all his life, until he sadly passed away earlier this year. He asserted that critical journalism is " an important corrective, and thus a pillar of democracy." This tenet cannot be emphasised often enough – especially in times when authoritarian governments are increasingly shameless in restricting freedom of opinion and press freedom, even within the European Union. For the same reason, it is essential to promote mutual exchange between critical journalists and to boost the self-confidence of young members of the profession. This is precisely what the IPI World Congress does. This year, it gathers the members of the media community from over 30 different countries in Vienna, both online and "live" at Vienna City Hall, to provide a forum for international journalism and media in the suitably splendid setting of our Grand Festival Hall.

As Mayor and Governor of Vienna, the capital of culture and education, I sincerely hope that this important multi-day conference held in our city will support all journalists who do not give publicity to "fake news", but instead cover true stories and facts from our cities, our countries and all parts of the world.

—  Michael Ludwig, Mayor and Governor of Vienna

Our partners
We are proud to co-host the 2021 World Congress with the City of Vienna,  Vienna-based Presseclub Concordia and Austria's public broadcaster, ORF.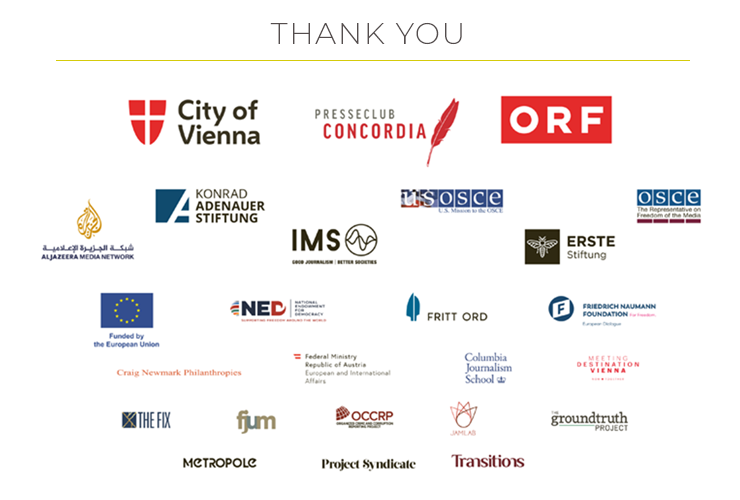 Format
The 2021 World Congress will run from 15-17 September as a truly global and hybrid online and IRL event: 
• Wednesday, 15 September – all zoom for our global audience.
• Thursday, 16 September – a series of small group masterclasses, meet-ups and round-table discussions focused on sharing experiences and finding solutions to some of the big challenges we face.
Evening programme: Celebration of Journalism – Awards ceremony and networking
• Friday, 17 September – a mix of keynotes, presentations and town-hall style meetings. Hybrid format (in person and online).
Evening programme: Drinks and networking event 
Plan your trip to Vienna
On this page you will find all the information you currently need for a trip to and a stay in Vienna, updated on a daily basis.