Lea este artículo en español.
For a few moments on March 26, Raquel Ejerique, a journalist with the Spanish news website eldiario.es, sat utterly frozen.
That day, the television programme in which she was participating as a panellist connected live to the headquarters of Spain's ruling Popular Party (PP), where the then-president of the Community of Madrid, Cristina Cifuentes, was appearing for the first time to respond to the breaking news that eldiario.es had published five days earlier.
On March 21, the site launched a series of reports, written by Ejerique, explaining how Cifuentes had allegedly obtained her master's degree from King Juan Carlos University through fraud.
What Ejerique had not been expecting was that Cifuentes, during the same press conference, announced she would file criminal charges against her and Eldiario.es's editor, Ignacio Escolar, for defamation and insult.
"We knew that she would go after us, but we were expecting a civil case", Ejerique explained in an interview with the International Press Institute (IPI) on April 11.
Defamation and insult remain criminal offences under Spanish law. According to IPI's legal database, those convicted of insult face hefty fines while defamation carries a possible sentence of up to two years in prison.
"In that moment I felt a chill", she said. "It's worrying when the president of a region like Madrid has made you her enemy."
Dogged by the master's degree affair and other scandals, Cifuentes ultimately resigned on April 25.
The charges against Ejerique and Escolar, however, had already been set in motion. On Monday, May 21, the two were forced to appear in court for a mandatory pretrial hearing in which lawyers for Cifuentes sought to have them retract the impugned articles.
Far from acquiescing, both Ejerique and Escolar stood by what they had published. The articles, Escolar said as he left the courthouse, "contained important and true information".
Such an event might be a mere anomaly had in happened in another European country. But in Spain, the prosecution of Ejerique and Escolar is only one among many active legal cases against journalists who have revealed corruption.
The aim: Stop the news and discredit journalists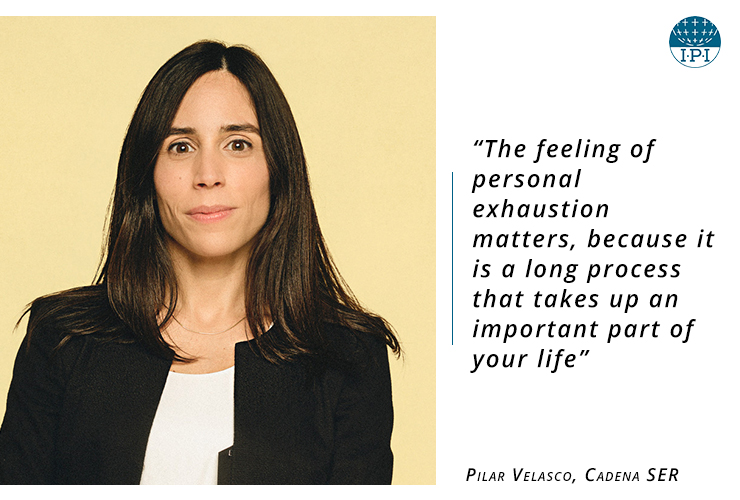 For Pilar Velasco, an investigative journalist with the broadcaster Cadena SER, "the filing of criminal charges and civil suits against journalists has no other aim than to silence the news".
In spite of the fact that the majority of such cases are dismissed, Verlasco said that "the feeling of personal exhaustion matters, because it is a long process that takes up an important part of your life since you are charged in a criminal case in which you have to defend yourself".
She is speaking from experience. On April 29, 2009, Velasco published an exclusive video for Cadena SER showing the then-vice president of the Community of Madrid, Igancio González, carrying white plastic bags on an official trip to Colombia, as well as revealing meetings in which González discussed Panamanian lawyers and Swiss bank accounts for moving checks and money.
González brought criminal charges against Velasco for revelation of secrets. A judge initially accepted the case and indicted Velasco. After an appeal, the case was finally dismissed in May 2013.
"There is an obvious mismatch here", Velasco told IPI. "It's not the presidency of Madrid against the presidency of a media outlet, but rather against a journalist in an individual capacity. And even if you have the support of a media outlet, as I did, the pressure is personal."
The court ruling dismissing the case warned that the filing of baseless criminal charges against journalists posed a danger to freedom of expression as a basic pillar of democracy.
"Finally, I cannot but refer to the risk that such charges pose to freedom of the press if they lack the necessary foundation", the judge in the case wrote.
For his part, González, who served as president of the Community of Madrid between 2012 and 2015, spent six months in pre-trial detention in 2017 on suspicion of embezzlement of public funds. A verdict in the case is pending.
Velasco also believes that such prosecutions show how politicians use public resources to bring their claims to court. "For them, it's a win-win situation", she remarked. "They don't have to pay lawyers, since they avail themselves of the legal services of the Community of Madrid and they also use the case as a way of telling the public that the information was false."
"It was me against the very top of the police"
In 2015, the Spanish news website Público began publishing a series of articles implicating top police officials in various forms of wrongdoing, including corruption, illegal wiretapping and the manipulation of reports against Catalan politicians.
Some of the officials implicated in the reports responded by filing criminal charges for revelation of secrets as well as a civil claim against Público and journalist Patricia López. The criminal charges were ultimately dropped, and on January 8, 2018, almost three years after the first articles appeared, a first-instance court in Madrid tossed out the civil claim after finding that the information published was true. The judge wrote:
"Upon analysis of the evidence it must be concluded that the published reports that are the subject of this case are protected by the right to freedom of expression. In particular, these reports refer to a public person and contain important information in the public interest. This information has been demonstrated to be true, having been corroborated and verified, and has been presented overall in a neutral manner and without constituting an attack on the plaintiff's honour in any way."
In spite of the victory in court, the experience took a toll at López. "I have been diagnosed with post-traumatic stress disorder", López explained to IPI. "You know that you are going to win, because the claims are unfounded, but living with the possibility of going to jail is hard."
Público's reports called into question the role of former Spanish interior minister Jorge Fernández Diaz. Spanish courts have also opened investigations into the wrongdoing López revealed and, in some cases, have ordered police officials sent to pre-trial detention.
IPI emphasized risks of Spain's criminal defamation laws in 2014 report
In late 2014, IPI carried out an international mission to Spain to analyse the possible impact that the criminalization of defamation and insult had on press freedom.
The report that followed the mission, "The State of Press Freedom in Spain", underscored the risk. "The current regulation of defamation in Spain falls short of international standards on freedom of expression and the protection of reputation", it summarized.
IPI brought the report's findings to the attention of leaders of the major political parties in Spain's Congress of Deputies during a second international mission in 2015. However, Spanish authorities have not acted on the report's recommendations, in contrast to other European countries such as Norway, Romania and England, where defamation and insult have been removed from the criminal code and defamation actions are now possible only in civil court.
Although the vast majority of legal cases, and criminal cases in particular, are resolved in favour of journalists, the continual pressure they face over the length of the proceedings wears on them personally.
"If it is a civil case, the company pays the damages, but I'm the one who goes to prison", López said. "And I don't how to do anything but be a journalist."