Honduras's enduring press freedom crisis
IPI-Admin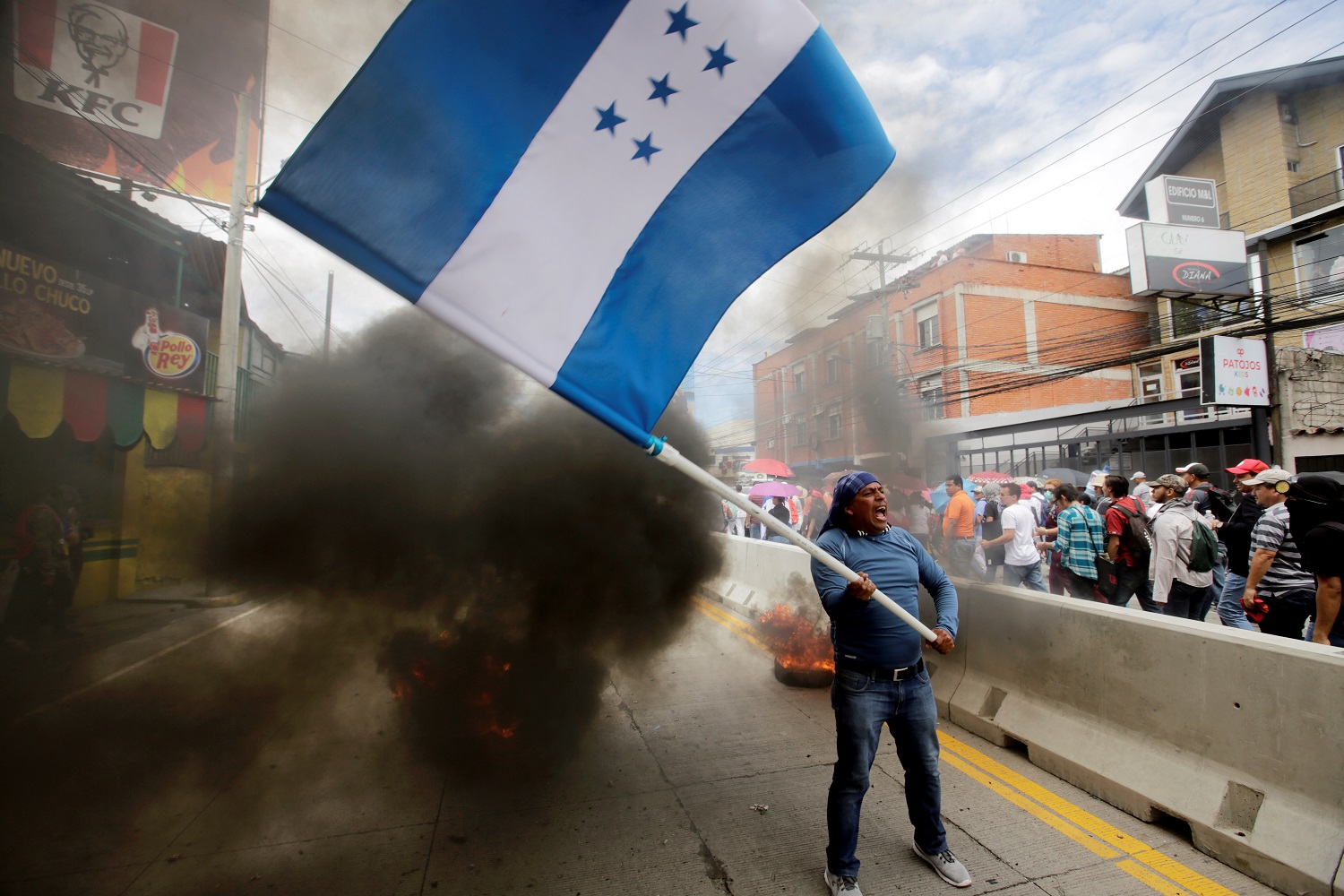 IPI In-Depth
Honduras: No end in sight to press freedom crisis
#
Photo: A demonstrator waves a Honduran flag during a protest against the government plans to privatize healthcare and education, in Tegucigalpa, Honduras May 30, 2019. REUTERS/Jorge Cabrera
By IPI Contributor Jamie Wiseman
January 28, 2020
With a population of just over nine million people, the small central American country of Honduras is one of the most dangerous places in the world to be a journalist.
Over the last decade alone at least 40 have been murdered in connection with their work, according to International Press Institute (IPI) data, making it the second deadliest place to report from within the Western Hemisphere, and more dangerous than many warzones.
These killings are the result of the deadly mix of interlinked factors which plague the country: powerful drug cartels, gang violence, growing authoritarianism, institutional weakness, and endemic corruption.
In this challenging landscape, journalists investigating or reporting critically on any of these issues routinely face the threat of attacks, death threats and assassination.
In 2019, four Honduran journalists were likely killed for doing their job. In March, journalist and presenter Leonardo Gabriel Hernández, a critic of the local mayor and regional members of Congress, was shot dead in Nacaome.
In August, broadcast journalist Edgar Joel Aguilar, who regularly covered crime, was shot dead inside a barber shop in Copán. Three months later, 73-year-old radio host Buenaventura Calderón, who was often critical of local authorities and corruption in the government, was gunned down outside his home in Puerto Lempira.
The most recent killing came on November 25, when Honduran TV journalist José Arita was shot and killed shortly after leaving his Channel 12 office in the city of Puerto Cortes. Honduran security spokesman Jair Meza Barahona said the murder was likely related to Arita's work as a journalist.
IMPUNITY INGRAINED
In Honduras, however, whether a motive is established or not is unlikely to make a difference in tracking down the killer. Besides having one of the highest number of deaths, the small country also has one of the worst impunity rates for the murder of journalists in the Western Hemisphere, at around 92 percent, Amada Ponce from the Honduran press freedom and rights group C-Libre told IPI.
When broken down, these figures paint a stark picture. Since 2001, 82 journalists have been killed in the country, according to data from IPI and rights group C-Libre. However, of these murders, only seven have ever been solved by the authorities, Dagoberto Rodríguez, president of the Honduras College of Journalists, told IPI. "There are either no investigations of these cases, or investigations are carried out and there are no results", he said. "Even when suspects have been jailed, it is often the triggermen, rather than those who ordered the assassinations."
The reasons for this ingrained culture of impunity from prosecution are many and complex, experts say. Efforts in recent years to reform an ineffective and often compromised judicial system and police force have so far been largely unsuccessful. Both institutions suffer from a lack of resources and are plagued by endemic corruption. In many cases, the implications of what investigations may unearth about the authorities, and those working within them, mean cases are ignored all together. These factors mean many of the murder cases are impacted by a lack of serious and comprehensive criminal investigations and cases become logjammed in the system.
Bodies set up specifically to tackle these issues, such as the Mission to Support the Fight Against Corruption and Impunity, created in 2016, have proven largely ineffective. This year, the government created the Special Prosecutor's Office for the Protection of Journalists, Communicators and Human Rights Defenders. While an important step forward on paper, little progress has yet been seen, Rodriguez told IPI. "So far it has not worked on emblematic cases and we do not know if the crimes recorded so far this year are being investigated", he said. The body has also faced criticism for "selective justice" and its slowness to act.
Even when the police are able to do their jobs, the sheer volume of murder cases that have to be investigated poses another major challenge. While Honduras is no longer the murder capital of the world, as it was a decade ago, it still ranks among the most dangerous countries globally. On average, 12 homicides are recorded every single day and there is currently a backlog of more than 180,000 cases in the country's courts. This means that in many cases, murder investigations are simply not carried out.
ROOTS OF THE PRESS FREEDOM CRISIS
While the press freedom crisis was on full display again last year, its roots can be traced back a decade further, to 2009. That year, a military coup tacitly supported by the United States and ordered by the Honduran Supreme Court forced the left-wing president into exile In his place, a new interim government headed by the former leader of Congress was installed, which immediately imposed curfews and suspended civil liberties. These harsh measures led to a spiral of increasing economic instability and violence.
While Honduras was no bastion for media freedom before, things got steadily worse in the decade that followed. Shortly after the coup d'état, the new administration imposed a widespread media blackout and cracked down on "opposition" press. Among the TV stations shut down were CNN Español, TeleSUR, and pro-Zelaya channels. Over the coming years, the government slowly strengthened its control over news and information, introduced regressive legislation, and clamped down further on outspoken critics in the media.
During this time, the number of Honduran journalists being killed because of their work skyrocketed. In the decade after 1999, just two journalists were likely murdered because of their profession. In the decade after the coup in 2009, at least 40 have been killed for doing their job, according to IPI's Death Watch.
Such figures have only gotten worse under the leadership of President Juan Orlando Hernandez of the conservative National Party of Honduras (PNH), who assumed office in 2014. Many of these killings are related to reporting on the link between corruption and drug crime in Honduras, which has become rampant under Hernandez's leadership. After the coup, cocaine flows into Honduras surged. The brother of current President has been found guilty of drug smuggling, and Hernandez himself has been labelled a "co-conspirator" in "state sponsored drug trafficking" by prosecutors, though he has never been charged.
Despite a constitutional ban on re-election, Hernandez won a second term in 2017 in a vote that international observers said was marred by fraud. Almost 40 people were killed and over 2,000 arrested in a crackdown on protests. Since then, the increasing authoritarian methods of the government in retaining its grip on power have led to the steadily worsening political and social crisis in which Honduras is mired now.
THREATS AND ATTACKS WORSEN
This crackdown has meant that in the past few years, the situation for the media has deteriorated further. After violent protests broke out against Hernandez's reform and austerity policies in June 2017, Rodriguez told IPI, there has been a "systematic increase" in attacks on journalists from both members of the police, military police and members of the armed forces.
Broadcasters covering anti-government marches in the capital Tegucigalpa have been attacked numerous times by police and armed forces, who allegedly beat, broke the equipment of and obstructed journalists and cameramen. Other TV crews have been targeted with tear gas, while others were threatened by civilian protesters for their perceived political bias. One journalist covering demonstrations in the northern city of Choloma was reportedly even electrocuted and forced to delete his material. Broadcasters reporting on the clampdown have had their transmissions interrupted.
"There are either no investigations of these cases (journalist murders), or investigations are carried out and there are no results", he said. "Even when suspects have been jailed, it is often the triggermen, rather than those who ordered the assassinations."
In 2019, death threats, arson attacks, and assaults of journalists also remained common, Ponce, from C-Libre, explained. She added that under the current government, journalists critical of the administration were often stigmatized by public officials and campaigns were waged through social media to discredit journalists. Others regularly receive suspicious phone calls and threatening messages online. In November, a kidnapping attempt was made against journalist César Obando in Colón – the fourth attack on him this year.
REPRESSIVE WEB OF LAWS
The Hernandez administration has also passed and amended a number of laws that give the authorities the ability to silence critical journalists. In 2017, the Congress first amended the penal code to punish journalists found guilty of the vaguely defined crime of "apology, glorification, [or] justification" of terrorism, with jail sentences of up to eight years.
A year later, the government brought forward a proposed National Cybersecurity Law aimed at regulating "acts of hatred and discrimination" on the internet. This would empower regulators to compel internet providers to censor content they deem offensive and remove it within 24 hours. The bill – deemed a "gag law" by rights groups – is currently awaiting approval after a third and final debate in Congress.
Meanwhile, criminal defamation cases have also been used to silence journalists. In 2014, for example, well-known Globo TV journalist Julio Ernesto Alvarado was convicted of criminal defamation and banned from reporting for 16 months. Two years later, Ariel Armando D'Vicente, host of the Libertad TV Channel 21, was given a three-year prison sentence for the same offence.
In March 2019, police raided the Tegucigalpa office of Radio Globo and Globo TV and arrested the station's director, David Romero Ellner, in relation to a defamation case filed against him by a former prosecutor. He is currently serving a 10-year prison sentence, in a conviction described by C-Libre and the Inter-American Commission on Human Rights as a politically motivated campaign by the government.
Despite campaigns from rights groups to scrap the law, in May 2019 the PNH-led Congress passed a new penal code that maintained criminal defamation on the statutes. In a swift turnaround however, a few months later in September 2019, the Honduran Congress publicly pledged to remove criminal defamation laws, in a move welcomed by press freedom groups. But in November, the Supreme Court recommended that Congress maintain the criminalization of libel and slander, leaving the fate of the reform uncertain.
PROBLEMATIC PROTECTION MECHANISM
With little security against abuses, many journalists in Honduras have little choice but to turn to the country's Mechanism for the Protection of Journalists, Human Rights Defenders and Operators of Justice. Set up in 2015, the establishment of the body was widely welcomed as a step in the right direction. Since then, more than 370 cases have been accepted and over 1,000 people in Honduras have been under state protection, according to Rodriguez. Currently there are over 200 active protection measures in place, he said.
However, the mechanism has also faced criticism for being too slow to act and seriously underfunded. According to Rodriguez, so far the equivalent of more than €800,000 has been invested in the scheme. However, he added that government-imposed austerity measures in July 2019 have meant the mechanism has already been forced to slash its budget drastically. "These funds are now insufficient to respond to the requirements that are presented regarding the measures", he explained.
Beyond financial challenges, the mechanism has been criticized for flaws in its selection process. Tragically, among those denied protection under the mechanism were two of the journalists killed last year. Leonardo Gabriel Hernández, who was shot in March 2019, had received several threats and in 2018 was denied entry to the programme. Edgar Joel Aguilar, who was killed in August 2019, had requested protection from the scheme the day before he was killed, police said. However, a spokesman for the protection mechanism said it was "never informed" of threats against him.
CENSORSHIP AND WIDER MEDIA CLIMATE
With such a high rate of murder, in recent years some journalists have fled the country rather than risk attack. For those who do stay, the climate of fear has led to self-censorship, Ponce told IPI. Many of the country's largest newspapers, such as La Tribuna, El Heraldo and El Tiempo, have long tempered their criticism and rarely stray far from the government line, observers say. When contacted to comment on the current press freedom challenges for this story, none responded.
While this situation continues, media freedom and the wider climate of safety for journalists show few signs of improving. Despite some positive developments in recent years, the Honduran government and the police continue to harass and persecute journalists by force and through the law, and impunity for the murder of journalists continues. Meanwhile, the underlying issues that make Honduras such a deadly place to report from show no signs of abating, and in the current political climate there appears to be little will to improve the situation. For now, things may continue to get worse before they get better.
MORE IPI COVERAGE OF LATIN AMERICA
MORE IPI IN-DEPTH