The International Press Institute (IPI) this week welcomed the Spanish government's decision to drop fines against a reporter who posted online a photo of police making an arrest, ending the first case against a journalist under a controversial provision of Spain's notorious 2015 "gag law"*.
But IPI criticized the government for waiting until one week before the journalist's appeal of the fine was to be heard, saying that the case against Basque journalist Axier López under the 2015 Public Security Law should never have been brought and that it illustrated the danger of a ban on publishing certain "unauthorized" images of police and others.
Despite refusing to back down for nearly a year, an Interior Ministry representative said this week that the government was revoking a €601 fine against López because it might not meet "necessary standards".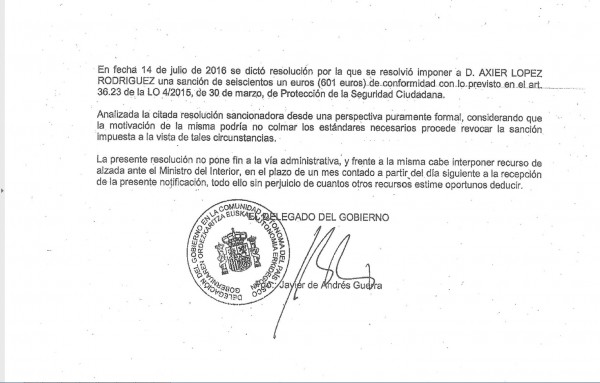 López, from the magazine ARGIA, was fined in March 2016 for tweeting a picture he had taken showing police arresting a young woman during a 2007 demonstration blocking a roadway. The photo showed officer's backs, but not their faces.
He was the first journalist charged under Spain's Public Security Law or "gag law", which took effect on June 30, 2015 and has been used to fine thousands of citizens, including several journalists.
Authorities cited López under Art. 36.23 of the law, which bars the unauthorized use of images or data of officers or members of the security forces that risk those individuals' security or the success of an operation. Violations carry a fine of €601 to €30,000.
Critics have faulted this provision for interfering with the legitimate act of reporting on public acts of police officials and for a lack of judicial oversight, as the central government in Madrid decides whether to impose fines. They also note that the law's vague formulation in terms of what constitutes a risk to officials' security or an operation's success leaves journalists particularly vulnerable.
Yolanda Quintana, coordinator of the Madrid-based Platform in Defence of Free Expression (PDLI, for its acronym in Spanish), maintained the group's argument that there are constitutional problems with the law.
"The sanctions that are being imposed are in the sphere of unconstitutionality for violating, in an unjustified form, a fundamental right such as the freedom of information," she said. "And the Peoples' Ombudswoman has signalled so, in a response to the complaints presented by PDLI."
Spain's Peoples' Ombudswoman recommended revocation of the fine last November, noting the lack of any showing that the fine was proportionate, as well as authorities' failure to consider its interference with a fundamental constitutional right.
Although this week's decision technically marked the first victory against application of the "gag law" to a journalist, Quintana called it "bittersweet", noting that Spain, by claiming formal errors, avoided having to justify its accusations against López in court.
López, however, told IPI that he hoped the development would serve as a precedent so that the law would not be used to limit the right of citizens to take pictures of public acts of police officers.
"At least they will think twice if they want to continue down this road and to apply Art. 36.23," he said.
López predicted that as long as the "gag law" is in force in its current form, it could potentially be used to limit press freedom and would have a chilling effect. He said the law could lead citizens and journalists alike to impose self-censorship "out of fear that the police officer before them may use the gag law that is unjust, according to our vision of things".
Emphasising that "it shouldn't be a crime to inform about police actions", López argued: "If we can't inform freely we are not doing journalism, we are doing something else."
*This article was amended on March 13 to note that while López was the first journalist charged under Art. 36.23 of the Public Security Law, another journalist was previously charged under a separate article.