A combination of diplomatic engagement and judicial measures can be an effective strategy to promote press freedom, safety of journalists and raise the cost of impunity for crimes against journalists, International Press Institute (IPI) Executive Director Barbara Trionfi said at a meeting today between the OSCE Group of Friends on Safety of Journalist and IPI in Vienna.
The members of the OSCE Group of Friends visited IPI's office to mark World Press Freedom Day 2019 and engage in a wide-ranging discussion on cooperation among human rights mechanisms, state institutions and civil society to end attacks against journalists, bring perpetrators of such crimes to justice and ensure journalists can operate freely and without fear of retaliation. In particular, IPI welcomed once again the OSCE Ministerial Decision on the Safety of Journalists as an important confirmation of OSCE member states' commitment to protecting independent journalism and stressed the need to work together to ensure the full implementation of such commitments.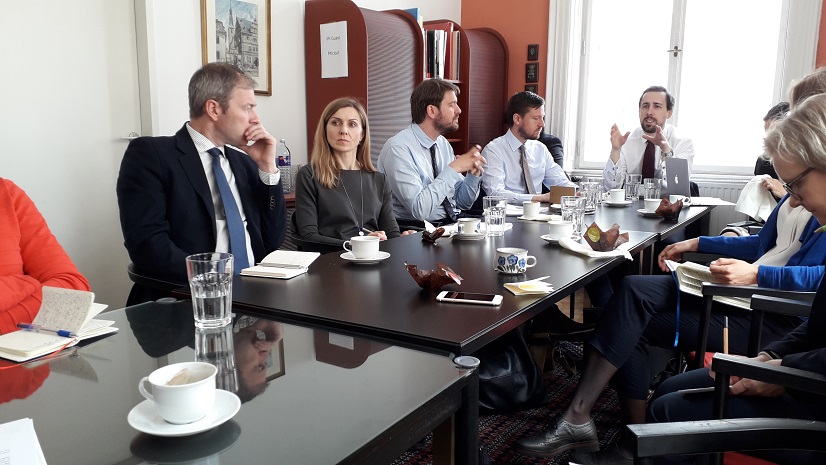 Welcoming the Group of Friends, Trionfi said that press freedom is under intense and growing pressure around the world. "IPI has been monitoring and expressed concern over the use of anti-terrorism, national security and criminal defamation laws beyond their legitimate scope to clamp down on critical journalists. The abuse of cybercrime laws and legislation purportedly aimed at targeting disinformation has led to additional restrictions on independent journalism", Trionfi noted. "The spread of disinformation represents a great concern to IPI's community of members, and strengthening independent, public interest journalism is the best antidote to it."
Urging the members of Group of Friends to step up their diplomatic efforts to combat attacks on press freedom, Trionfi said that diplomacy and judicial pressure can go a long way in addressing the issue. "Diplomatic efforts, judicial decisions and pressure by civil society groups can have an impact on the deteriorating state of press freedom", she added.
"We thank IPI for hosting us today on the occasion of World Press Freedom Day. We look forward to continued close cooperation with civil society in keeping the safety of journalists high on the OSCE agenda and fully implementing the 2018 OSCE Ministerial Council  decision on the Safety of Journalists", Eglė Maier, a Lithuanian diplomat and co-chair of the Group of Friends, said.
The informal OSCE Group of Friends on Safety of Journalists, created in 2018, aims to keep the topic of the Safety of Journalists – in its broad understanding – high on the OSCE agenda. The group, co-chaired by France, Lithuania and Sweden, gathers 16 OSCE delegations: Austria, Canada, Denmark, Estonia, Finland, France, Germany, Greece, Latvia, Lithuania, Montenegro, the Netherlands, Norway, Sweden, the United Kingdom and the United States of America.