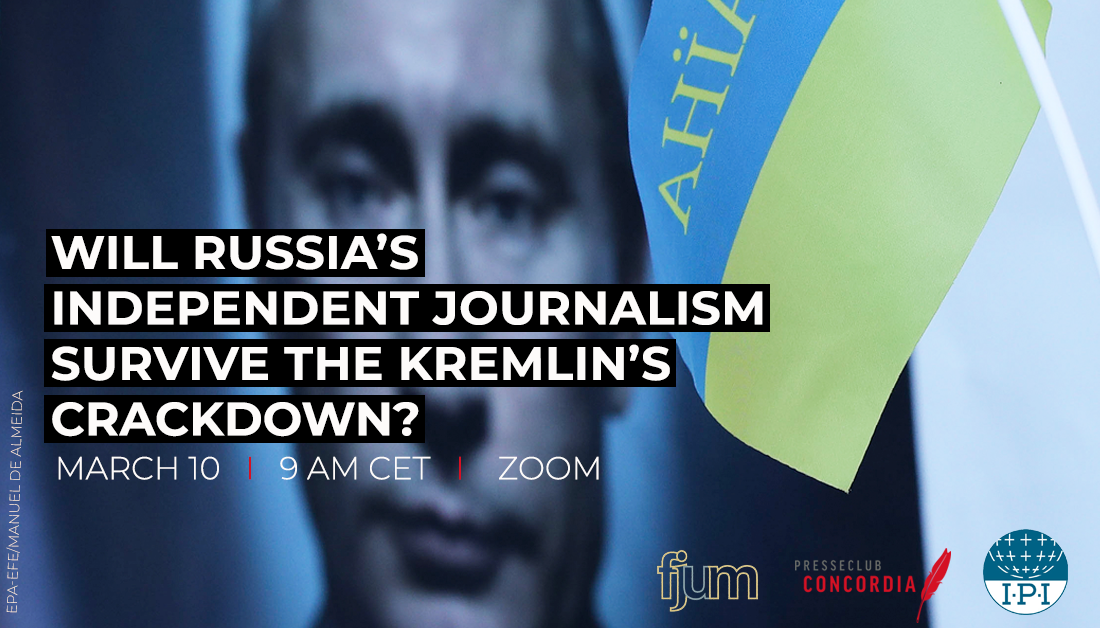 Over the past week, Russian authorities have launched an unprecedented crackdown on what remains of the country's independent media and those challenging the Kremlin's narrative about the invasion of Ukraine. In a single day, two of the last major independent broadcasters – Ekho Moskvy and Dozhd TV – fell silent after having their websites blocked by the state media regulator, which has gone into censorship overdrive in a desperate effort to manage the narrative.
#Russia's state communications regulator #Roskomnadzor "now has the power to block anything they want without following any rules", says Timchenko. "They sent Meduza 50 letters with demands to delete content about the war & then blocked us minutes later" pic.twitter.com/x6ikEJIPAQ

— IPI-The Global Network for Independent Journalism (@globalfreemedia) March 10, 2022
Even the storied Novaya Gazeta – edited by Nobel Peace Prize winner Dmitry Muratov – has said it is removing content about the conflict in Ukraine due to concerns over fears for the criminal prosecution of its journalists. It came as the State Duma passed a law criminalizing "false information" about the country's armed forces, which could see journalists reporting about alleged war crimes or Russian military losses jailed for up to 15 years, according to the International Press Institute (IPI).
Meanwhile, a dozen other news websites have been blocked and threatened with administrative fines; use of the terms "war" and "invasion" have been banned by the regulator; journalists reporting on anti-war protests across the country have faced arbitrary arrests; and many have fled the country fearing risks to their safety or hefty jail sentences.
Amidst this rapidly escalating crackdown, we ask whether independent journalism as we know it in Russia will survive and how leading journalists are navigating this dangerous news landscape.
Speakers
Galina Timchenko, Russian journalist, CEO and founder of Latvia-based independent newspaper Meduza.
Kirill Martynov, Deputy Editor, Novaya Gazeta
"Now, in 2022, we experience the real collapse of the USSR. 30 years ago was just the first chapter", sagt Kirill Martynov, stellv. CR von @novaya_gazeta in unserem Online-Gespräch.

📺: https://t.co/8dIJtvGDOq pic.twitter.com/TSnWrKIfbi

— Presseclub Concordia (@PCConcordia) March 10, 2022
Conversation moderated by Mirjana Tomić fjum/Presseclub Concordia and followed by a live Q&A
Organized by fjum, Presseclub Concordia and the International Press Institute (IPI).