Crisis point: Covid-19 intensifies challenge for independent media in Hungary
IPI-Admin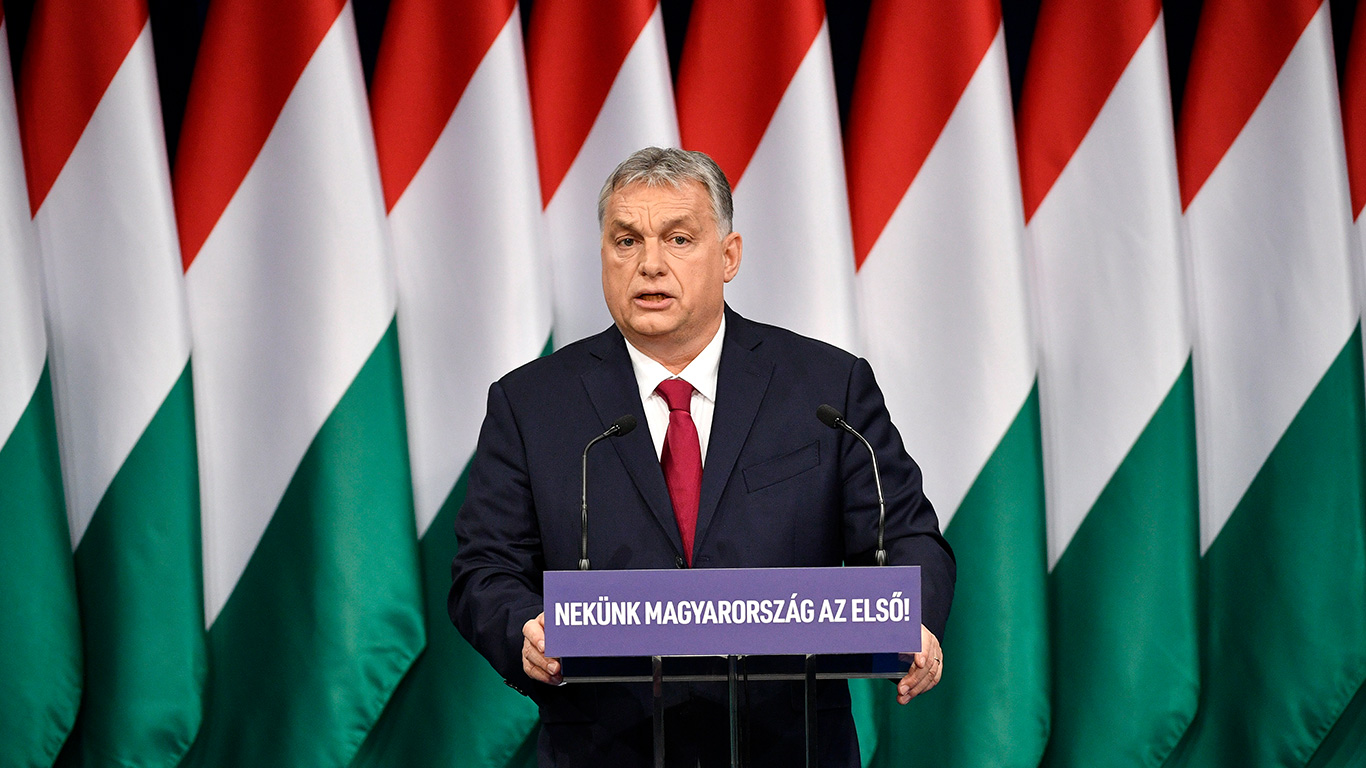 IPI In-Depth
Crisis point: Covid-19 intensifies challenge for independent media in Hungary
Photo: Hungarian Prime Minister Viktor Orban. EPA-EFE/Zsolt Szigetvary.
By Jamie Wiseman, IPI Advocacy Officer
May 18 2020
Watchdog media under huge strain from government information control, smear campaigns, and drastic financial situation
The Covid-19 crisis has exacerbated existing challenges for independent media in Hungary, as the government of Prime Minister Viktor Orbán pursues tighter information control and intensifies its now decade-long campaign to discredit and undermine critical journalism.
With information centralized during the crisis, FOI deadlines extended, sources intimidated from speaking out and daily press conferences overlooking critical questions, Hungarian journalists are finding it increasingly difficult to gather information for stories and inform readers.
This situation is worsened by fresh attempts by pro-government media and commentators to delegitimize critical press as peddlers of "fake news" or unpatriotic scaremongers – in some cases even going as far as calling for "muzzles" for particular journalists.
In the background, meanwhile, new criminal legislation against the spreading of "false" or "distorted" information, passed during the current state of emergency, is causing uncertainty and self-censorship among media – and is already being used to detain social media critics.
To make matters worse, independent media in Hungary face a precarious financial situation, a result not only of the current crisis but also of years of state-led market manipulation that has starved critical media of advertising revenue while propping up a pro-government media empire.
Access Denied: Hurdles on gathering information
The most practical of these challenges for journalists so far has been the most basic one: restrictions on access to information. Since the crisis began, information about the pandemic has been centralized by the government's so-called "Operative Unit", meaning that journalists' questions to local hospitals, schools and municipalities have to be handled by the national authorities. This new communications strategy has obstructed the work of the media.
"A growing number of public institutions ignore our information requests", Tamas Bodoky, editor-in-chief of non-profit news outlet atlatszo.hu, told IPI. "There is no denial or rejection, just no answer. We know from multiple sources that there is a central blacklist of outlets with which public institutions and officials cannot talk. We are on that list."
At the same time, the government has also weakened rules on Freedom of Information (FOI) deadlines. In the previous system, state bodies had a maximum of 30 days to respond to a journalist's request for publicly held information. This has now been trebled to 90 days during the indefinite state of emergency, meaning journalists will have to wait three months to get access to vital information.
"Local officials and institutions won't speak to us anymore", Ervin Gűth, a journalist at Szabad Pecs, a small outlet serving the city of Pecs and one of Hungary's very few independent local media outlets, told IPI. "Questions to the government's task force sometimes take two or three days to get a response, meaning often the story has passed. On other occasions, we get no response at all."
Meanwhile, the government task force's daily press conferences, which were first held in person with distancing measures and then switched online, offer little hope for answers. Several Hungarian journalists IPI spoke to said that while early in the crisis press conferences were run well, the new online system is being manipulated to pre-select and favour questions from pro-government media, shielding officials from difficult questions.
"It's almost exclusively questions from pro-government media that get answered", Gabi Horn, a journalist at atlatszo.hu, told IPI. "They pick the questions they like, starting with government friendly media outlets, and other questions are simply not answered." As in many other countries, she added, even when questions are asked there is also no chance to follow up, meaning officials cannot be pressed or asked for clarification.
At the same time, human sources are also becoming more difficult to reach. Individual state hospital workers were already barred from speaking to journalists and now the heads of health institutions have to seek approval and then coordinate with authorities before giving interviews. Journalists told IPI this was making it difficult to report on the reality of the situation for those working on the front line of the pandemic.
Final nail in the coffin: further economic pressure on media
Another major, and more existential threat for independent media in Hungary, is the current economic situation. Despite huge increases in readers seeking reliable news, media outlets across the country have been hit hard by plummeting advertising revenue.
While media in every European country are under pressure, in Hungary the situation is particularly acute,Sandor Orbán, head of the Center for Independent Journalism (CIJ) in Hungary, told IPI. "When the crisis reached Hungary, independent media had already been in dire straits", he said. "News outlets committed to watchdog journalism have been struggling for survival for over a decade mostly due to constant political pressure from the government and the distortions of the advertising market."
Since 2010, the Hungarian government has overseen the creation of a vast pro-government media empire and deliberately manipulated the country's media market to favour those following a pro-government narrative. When the crisis hit, state-owned companies and industries were in a position to channel advertising revenue to prop up outlets supportive of Orbán's Fidesz party. With no emergency support package on the horizon, independent media on the other hand are struggling more than ever financially.
"The government do not want to save the independent media at all", Agnes Urban, a media expert at Corvinus University in Budapest, told IPI. "No one can predict the nature and length of the economic crisis, but it could be absolutely tragic for [them]".
Those fears are backed up by a recent report which found that the collapse of the advertising market was having a significant effect particularly on smaller, independent media outlets. Even the largest remaining independent outlets in the country, such as 444.hu and HVG, have been forced to ask for special financial contributions from readers.
New fake news laws
As if this wasn't enough, the situation for media freedom has been aggravated further by the latest power grab by the Fidesz government. Using its two thirds majority in the parliament, on March 31 Fidesz passed the Coronavirus Act, which implemented a limitless state of emergency and handed Prime Minister Viktor Orbán unprecedented powers to bypass Parliament and effectively rule by decree.
In this emergency situation, the government passed a new "scaremongering" law which criminalizes the spreading of "false" or "distorted" statements which disturb public order or information deemed to undermine the authorities' fight against the Covid-19 virus. Those found guilty can face up to five years in prison.
While no criminal charges have yet been brought against journalists, the law has already been used to indirectly target media outlets. Tamas Bodoky, editor-in-chief of atlatszo.hu, told IPI his outlet had been reported to authorities by a company which accused it of allegedly "spreading fake news" in an article the news site had written about it. The company's formal letters of notice referred specifically to the new law, though police declined to take further action.
Even without direct use, however, the law has still had a significant effect on the media, explained Daniel Renyi, political affairs journalist at online news site 444.hu. "Orbán doesn't have to throw journalists in jail for the law to have a chilling effect", he said. "He'll use the law in the future as and when he needs it. It's another tool to use if they [Fidesz] ever face a real challenge to their power." Sandor Orbán, from the CIJ, similarly said the new law had a "chilling effect" on the media and was leading to increasing self-censorship.
Already, the "fake news" law has already begun to change the way some journalists report. Gűth from Szabad Pecs told IPI: "The uncertainty is the biggest problem", he said. "We just don't know how this new law will be implemented or used. At the start of the crisis, if we got anonymous testimony from doctors and nurses working in hospitals we would verify and publish. But now even if we know the information accurate, we have to think again as we don't want to be accused of 'distorting' facts. The idea of a civil case was not so bad. But we all have families. None of us wants to go to prison for up to five years."
"The new scapegoat"
Alongside the autocratic moves by the prime minister, journalists and outlets have been subjected to a fresh barrage of attacks, accusations and stigmatization by officials and pro-government media. While Hungary's critical press have long been targeted by a Fidesz-driven delegitimization campaign, it's clear the coronavirus pandemic has aggravated the situation.
"Attempts to discredit independent media have increased during the crisis", Bea Bodrogi, a lawyer and member of the Hungarian Civil Liberties Union (HCLU) who has been monitoring the situation, told IPI. She said that while before the crisis right-wing thinktanks and pro- Orbán websites would accuse critical outlets of spreading "fake news", during the pandemic this role has increasingly been taken on by the country's public broadcaster, in practice a state broadcaster that has for years served as a Fidesz mouthpiece.
"Each day there is a segment in the public service broadcaster called 'Exposing Fake News' which highlights rumours on social media, but also reports, often by critical and independent media, which are accused of containing false information", she said. "These outlets are given no chance to respond." After the news program is published, she added, the news is funnelled through the pro-government channels which then use it to accuse unfavourable media.
In this toxic environment, journalists reporting on the reality of the situation inside hospitals are regularly denounced as "scaremongers", while those questioning the government's handling of the crisis are accused of being unpatriotic. In March, pro-government channel HírTV invited onto a talk show two leading pro-Orbán commentators who called for particular journalists to be "muzzled" and questioned whether the editor-in-chief of independent news Index.hu would be "put away".
One of those speakers was Gábor Megadja, the senior researcher at the Századvég Foundation, a pro-government think-tank. It has created a page on its website which tracks what it deems to be "fake news" that has been published in the press and social media. Many of the articles collected are by critical outlets such as index.hu and 444.hu. Among those targeted most often is Magyar Hang, an independent weekly magazine. Formed in 2018 by conservative journalists opposed to Orbán, its staff have faced repeated smears and accusations of disseminating misinformation.
Márton Gergely, deputy editor-in-chief of weekly newsmagazine HVG, told IPI: "We are seeing concerted efforts by the government to turn journalists into the new scapegoat for the crisis." With the political opposition cowed during the pandemic, and common targets such as migrants and billionaire liberal George Soros less visible, he explained, the government and its supporters have turned instead to the critical media. "It's about firing up Fidesz's political base during the crisis", he said. "They want to discredit journalists and portray them as political actors."
This environment has already led to attacks on freedom of expression. Recently, two leaders of the far-right Our Home Movement party and the Christian Democratic People's Party, a coalition partner with Fidesz, announced that they will sue the cartoonist Gábor Pápai for "blasphemy" over a cartoon published in Népszava, Hungary's only non-government-controlled national daily, about the one of the members of the government's coronavirus task force.
Hungary: At a crossroads
Even if independent media in Hungary can weather the storm caused by the looming economic crisis, the political situation they emerge into may be even more challenging. With Orbán effectively ruling by decree during the indefinite state of emergency, and the new "fake news" laws already being used to detain and question critical social media users, the risks of journalists being criminalized for the Covid-19 reporting remains high.
In the longer term, the pandemic also risks lead to a cultural shift of authorities controlling and denying access to independent media. While the government has promised to revoke the restrictions once the state of the emergency is lifted, some elements could remain long after the health crisis is over.
MORE IPI IN-DEPTH