+ 820 days behind bars in Egypt without charges
I call on #Egypt to #FreeMahmoud and all other journalists in jail! #PressEgypt #JournalismIsNotACrime
Tweet
Mahmoud Hussein: A family fights for justice
Imagine spending over 820 days in prison without knowing what you are charged with – or whether you will ever get out.
That is the reality for Mahmoud Hussein, a 52-year-old father of nine who is behind bars in Egypt simply for being a journalist. And he is not alone: today, Egypt is the third-worst jailer of journalists in the world, surpassed only by Turkey and China.
Hussein, an Egyptian national working for Al Jazeera in Qatar, was detained at Cairo airport on December 20, 2016, after arriving to meet his family for holiday. He was interrogated for over 14 hours without a lawyer, released, and then arrested again days later.
On December 25, 2016, the Egyptian authorities publicly accused Hussein of "disseminating false news and receiving monetary funds from foreign authorities in order to defame the state's reputation". National media in Egypt portrayed him as a foreign spy and a terrorist.
Since then, Hussein's detention has been renewed at least a dozen times. His pre-trial detention was extended yet again last December 2018. At the time, he had spent 713 days imprisoned without charges. The extension of his pre-trial detention already violates Egypt's Penal Code which establishes in 24 months the maximum length someone can be imprisoned without charges.
Today, prosecutors still have not brought official charges against him nor has the government provided any evidence or justification for his detention.
In January 2018, the U.N. Working Group on Arbitrary Detention concluded that Hussein's detention was arbitrary and that the conditions of his arrest and imprisonment amounted to "cruel, inhuman and degrading treatment".
Missed by a big family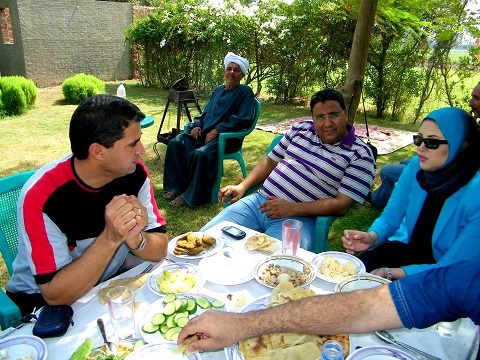 Hussein's oldest daughter, Aya Mahmoud Hussein, is angry and disappointed at the way Egypt has treated her father and his family. In a recent interview with the International Press Institute (IPI), she described her father as someone who brought his children up to love their home country.
"So when my dad was portrayed as a terrorist on national TV, I just felt so angry", she said. "How can you describe a guy who is so loving and caring as being a terrorist?"
Hussein's family has suffered as a result of his detention. As part of the smear campaign depicting Hussein as an enemy of the state, Egyptian media also circulated pictures and information about his family and children.  Hussein's younger children have been confronted in school and asked about their father's being a "terrorist". His second oldest daughter, Zahra Mahmoud Hussein, was fired from her job as a trainee reporter at a TV channel after her boss found out who her father was. Zahra has now put aside her dream to follow in her father's footsteps as a journalist and instead taken over his role as family caretaker.
Poor prison conditions
Hussein's children fear for their father's health. For the first three months after his arrest, Hussein was kept in solitary confinement, locked in a smelly cell that was crawling with insects. He was not allowed to speak to anyone.
Since then, he has lost a substantial amount of weight due to poor food quality and is suffering both physically and psychologically, his family and colleagues say. In summer 2017, Hussein had to wait 72 hours for medical attention after breaking his arm in a fall. Though the arm was poorly casted and the pain worsened, Hussein was denied surgery and a casting change.
Hussein currently shares a cell with three other inmates, all of whom were convicted or arrested for crimes such as murder. He is allowed to have visitors once a week. Aya Mahmoud Hussein, who studies in France, visited her father twice last Christmas.
 "It was very depressing to see him in a prisoner's outfit", she said. "That is not what my father should be wearing. I knew that [prison] was not where I should be meeting my father."
Fight for justice
Aya Mahmoud Hussein said it hurts to have to turn to the international community for help.
First, she believes that Egypt should respect its own citizens. And she insists that journalists should not pay the price of the ongoing conflict between Egypt and Qatar. Over the past few years, the Egyptian government has specifically targeted the Qatar-based Al Jazeera, accusing the outlet of supporting the Muslim Brotherhood, which Egypt considers to be a terrorist organization. Egyptian authorities have expelled Al Jazeera from the country and arrested its journalists while government supporters have attacked 
the company's local offices

. In 2016, an Egyptian court sentenced Al Jazeera Arabic's editor-in-chief, Ibrahim Helal, to death in absentia.
Second, Aya Mahmoud Hussein regrets having to ask other countries to stand against her own, a place her father taught her to love.
"I want the relationship between my country and all the other countries to be very good", she said.
"However, I would like to see pressure on my country to ensure justice for my father and for anyone who has been detained for that long in pre-trial detention without any clear charges, which is the case for many Egyptians."
ABOUT THE #PRESSEGYPT CAMPAIGN
Some two dozen journalists are behind bars in Egypt. #PressEgypt is IPI's campaign for their release.
Join our call and help press Egypt to ensure all of the country's journalists can do their jobs freely and without fear
Follow the campaign for more profiles: