Since 2013, Northwestern University Qatar (NU-Q) has published its annual report "Media Use in the Middle East" to provide a useful and easy-to-access source for systematic data analysing and monitoring media use and attitudes in the Middle East.
Ahead of the release of the 2017 survey this spring, look back at last year's report to see how people communicate with each other; how they seek news, opinions and entertainment; and what they use to communicate.
The report reflects the results of an annual survey that NU-Q and the Doha Film Institute (DFI) send to academics, media and institutions related or interested in the Middle East. Some 6,000 individuals from six countries – Tunisia, Egypt, Lebanon, the United Arab Emirates, Saudi Arabia and Qatar – are asked to provide in-depth information on those countries and to draw comparisons between them.
The survey examines topics such as media use patterns and content preferences, as well as attitudes toward issues such as censorship, freedom of speech and cultural preservation.
Check out the interactive report on NU-Q's microsite and explore the data presented using interactive filters for gender, age group, nationality etc.
Interesting facts:
When asked about perceptions on availability of objectionable content, an average of 54 percent of those surveyed said it is "mostly the responsibility of each individual to avoid" such content as opposed to the government's responsibility to block it. However, the answer differed widely within different countries: 30 percent of Egyptians surveyed said responsibility rested with the individual while that number climbed to almost 60 percent in Tunisia:
Perceptions about individual vs. government responsibility to avoid or block objectionable content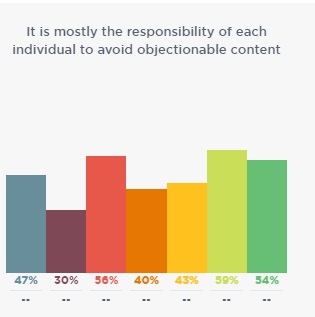 Each country also showed a different approach in terms of people's feelings about online privacy.
Percentage of people who agree with the following statements about online privacy and surveillance

Large majorities of respondents in every country surveyed supported preservation of culture and integration with the modern world, but many questioned the possibility of doing both.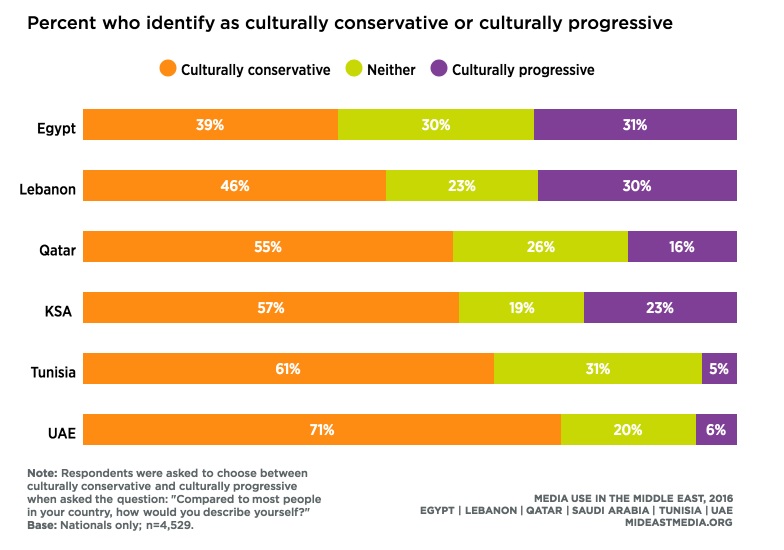 Dive in to the report at NU-Q's microsite.